Support for patients
taking DHIVY
Avion Pharmaceuticals is dedicated to breaking down coverage barriers
Patients taking DHIVY can receive:
Co-pay support
Eligible patients may pay as little as $50 per 30-day fill.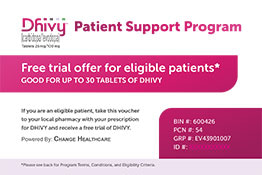 Free trial voucher
Eligible patients may receive a voucher for up to 30 tablets of DHIVY at no cost.
Your patients can easily sign up for the DHIVY Patient Support Program

Stay up to date on DHIVY
Be the first to know about the
latest developments on DHIVY.
Image does not represent the actual size of the tablet.